-  Okay so I was actually able to find a hard copy of the new How To Destroy Angels at a major, corporate outlet.  I know what you're thinking: "what's a hard copy??"  I was there to pay bills, not to record shop.  So it was a nice treat; because — and I might be in the minority here — I do like owning a CD much better than just having it on my computer.  Granted, this will get thrown onto my computer at some point… I just have yet to do that cause I've been blasting it through the stereo for the past few days.
So how is it, right?  Fucking awesome.  I'm loving this album.  And it's scary because like I've said in the past… I think I like this stuff more than I ever did NIN.  And I consider myself a Nine Inch Nails fan, too.  Mariqueen Maandig, as she's credited in the liner notes, does a miraculous job breathing more life into into an ever expanding body of Trent Reznor production.  I'm fairly certain I wouldn't enjoy this as much if it was a purely Reznor sung collection of music.  Not that he doesn't sing.  He does, only a little.  It makes his vocal appearances all the more exciting, and even haunting, when he's not around all the time.  To say this album is simply a showcase of Maandig's etheral, spot-on vocals would be beyond misleading of me though.  Indeed Atticus Ross and Reznor alike really bring their A games to the table here: using their illustrious pasts apart, their work together on David Fincher soundtracks, and something new and simple as a very like-minded production team.  I guess when you go back and really listen to the soundtracks they've done — particularly The Social Network — it is pretty simple music, really.  On the surface at least.  Those more ambient leanings appear on "Welcome Oblivion"; they just sit behind some really catchy, borderline basic, Electro/Industrial beats that sound like they've ripped directly from a late 90′s MPC.  Catching a theme here?  This record manages to combine simplicity with a more organic brand of Electronic music, which oddly creates a forward-thinking sound.  "A house on fire/burning all the past away."  Haunting, progressive, simple, organic… like the future.  This is future music.
-  Stained glass water-tower.  Brooklyn.  By Tom Fruin.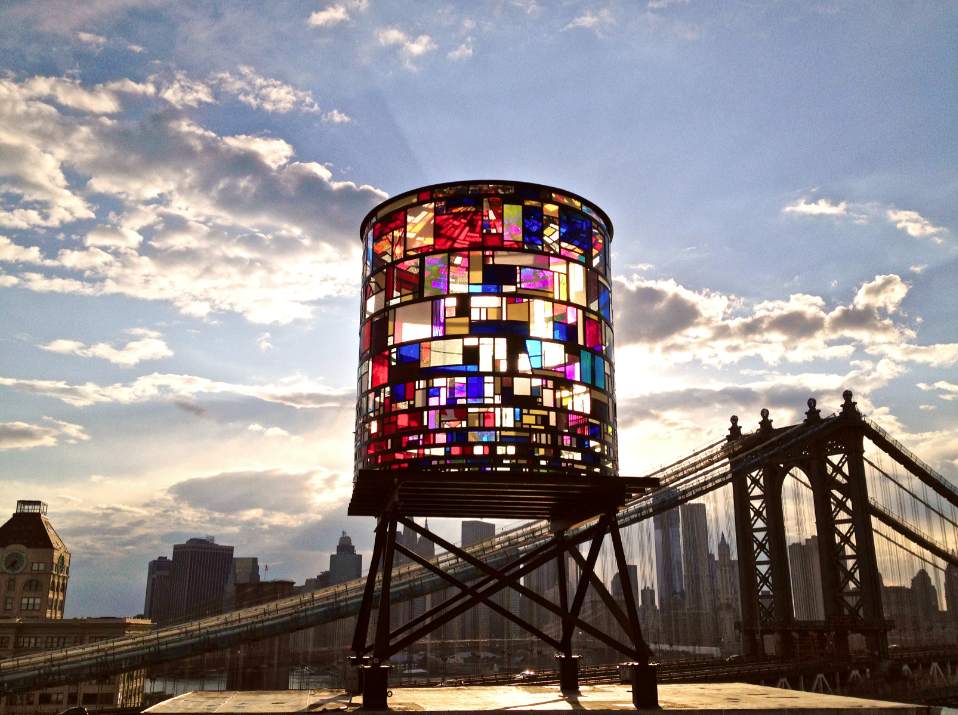 -  "Iran shipping Chinese weapons to Yemen" sounds like a Tom Clancy novel's starting point… but:
"As the article makes clear, the Iranians, via the Revolutionary Guard Corps, are accelerating the volume and sophistication of weapons supplies transferred to extent and potential proxies in the region. In the case of Yemen, that's the Houthi rebellion. In all cases, Iran's support is to Shi'a or Shi'a offshoot groups fighting Sunni government or groups.  The qualitative escalation is symbolized by the presence of Chinese-manufactured manpads—the QW-1M. These weapons come from a Chinese state-owned company already sanctioned by the U.S. government for illegal arms dealing.

What are Iranian and Chinese officials thinking (and let me note that in neither case can we assume a monolithic government decision system)?"
-  SonnyW.