-  Hurricane Sandy as the Fibonacci Spiral/Sequence:
-  I wonder how close this is to the character from 2001…?  Someone has decided to make a HAL9000 robot for purchase and — I'm assuming — mounting on your wall somewhere?  You can preorder it for $500 right now.  LINK.
-  Then we got some what looks to be hockey jersey's that are really fucking nerdy and awesome at GeekJerseys.com.  This Link jersey is really, really fucking awesome: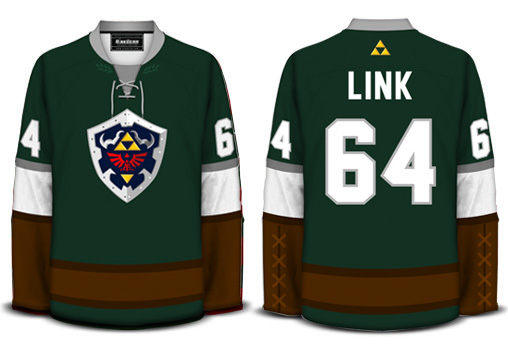 Thanks Topless Robot for the tips!
-  The Biggest Expansion of Man In PreHistory?
DNA sequencing of 36 complete Y chromosomes has uncovered a previously unknown period when the human population expanded rapidly. This population explosion occurred 40 to 50 thousand years ago, between the first expansion of modern humans out of Africa 60 to 70 thousand years ago and the Neolithic expansions of people in several parts of the world starting 10 thousand years ago.
I was wondering if you had any advice regarding making ideas more important. I have pages of different events + characters that I can only develop so far because, after a time, all I can add to them are "WHO CARES?" and "WHY DOES THIS MATTER?" (I'm talking about events characters will go through. "Statues come to life all around Greece" is immediately followed by "WHO GIVES A FUCK?") Does this ever happen to you? Thank you very much for your time, and sorry if you've answered a similar question!Ungh.  This is a really tough one.  There are two ways, maybe, to attack this.

1) One way of doing it, and this works okay for standard dramatic storytelling, is this: what do your characters WANT?  The secondary questions are, what stops them from getting what they want, and how far are they prepared to go to get what they want?  But start with the simple first question.  What your character wants defines how we perceive and feel about them in the story.  Find one thing they want, and see how that feels to you.

2) From a certain view, stories are two things.  There's what the story's about, and what the story's REALLY about.  Wells' WAR OF THE WORLDS is about a Martian invasion of Earth.  But it's REALLY about something else entirely.  There's a subtext: there's the thing Wells wrote the story toactually talk about.  What you may be encountering is having a story that's all surface, or a story with a subtext that isn't working out for you.  Find out what you really want to say with your fiction.  If it matters to YOU, it'll matter to other people.
-  PoliFact has a list of "Scariest Lines from the 2012 Campaign" up for Halloween.
-Sonny