-  There awaits to excellent features at Guernica for you:
The decades since the '30s and '40s have witnessed considerable broadening of the superhero's narrative and thematic ambition, an evolution (some would say cynical decline) that accelerated with the mid-'80s arrival of the glibly monikered Dark Age. Inspired by pop-culture touchstones like Alan Moore's Watchmen and Frank Miller's The Dark Knight Returns, the new strain of superhero comics attempted to incorporate greater psychological depth, artistic experimentation and gritty atmospherics, launching a bevy of condescending "Biff, Pow: Comics Have Grown Up!" headlines that continue to this day.

These aspirations were regularly confused by over-zealous creators with an open license to escalate violence and sexual content, but often enough, the writers and artists succeeded in taking the genre to new places. These were not happy destinations, rife as they were with anti-heroes and psychopaths feeding off each other's pathologies. The defining quality of the deconstructive new tales was a readiness to say uncomfortable things about the sort of person who might actually be inclined to put on an outlandish costume and run around attacking sociopaths. In short, it was no longer possible to generalize about the basically hopeful nature of superheroes.
Art grabs people by their eyeballs, it seduces them. Especially if the picture is very beautiful or very sexy or just really weird, if it has some surreal element in it. It makes people do a double take and then, if they're looking at the picture, maybe they'll read the text under it that says, "Come to Union Square, For Anti-War Meeting Friday." I've been operating that way ever since—that art is a means to an end rather than simply an end in itself. In art school we're always taught that art is an end in itself—art for art's sake, expressing yourself, and that that's enough.
Drooker's work: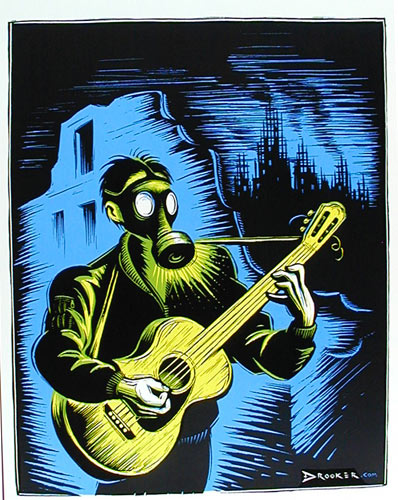 And Molly's:
-  There's more to the recent scientific finding that music has become less original and louder over the years.  In terms of volume, we're using significantly better tech to both create and consume music.  It's hard to drive a V-10 at only 40 MPH when you know that's only a quarter of its power.  Know what I'm saying?  Then there's a cultural aspect to everything being louder (literally and figuratively) now: to block out the world with headphones nowadays requires more volume in a city than it probably did in 1952.  And in terms of notation… well that is easily debunked.  Or questioned, at the very least.  Obviously as time goes on and on more and more musicians have to use the same chord progressions and melodies and structures.  There is only so many keys to use.  And within that limited number of keys there's only so many ways to rearrange chords.  And within those structures there's only a percentage of them that are consonant (a fancy musical term for "feels good on the ears").  Clearly scientists, not musicians, did this research.
-Sonny